Aside from finishing my reading, This weekend was a lot of fun, but very Tiring! It was my god-daughter's fourth birthday, so I had to drive out to Pennsylvania to visit Keaira and my best friend Dave and his wife Kerry. The initial drive was not bad at all. Granted I needed a red bull to keep me alert as I had woken up early to run some last minute errands (Wrap Gifts, pick up EZ-Pass from parents, etc..).
Despite leaving about 30 minutes later than I planned, I got to the party right on time. It was a great time. Keaira seemed like the happiest child in the world the whole time with a bright smile across her face from the moment I arrived, to even when she was waving to me good bye.
I left the party and headed out to meet Casey, 5 hours away. Farther into Pennsylvania. That was a rough drive. I have no trouble driving, even long distances. I had my Zune loaded up with multiple episodes of the podcasts I mentioned exactly one month ago. I needed to catch up anyways, and I had hours of education and entertainment at my disposal. The weather sucked. As I left the party, it had started snowing and was doing so on and off throughout the trip.
Three cans of Red-Bull and 4 hours, 45 minutes later, I let my attention slip as I swerved slightly out of my lane. I promptly corrected myself as the rotating red lights of a police car lit up behind me. Asking if I was in a hurry, I advised that I was not, was just tired, though I didn't believe I was going that fast. The officer asked where I was headed and I stumbled as I tried to explain that I was headed to a friends house, but frankly had no idea where I was going. I pointed to my GPS and the fact that wherever I was going, was about 12 minutes away. He looked at the GPS and the pile of Red Bull cans and seemed to have a smirk on his face, almost laughing at me, as he told me to slow down and try to keep my vehicle on the road. I thanked him and continued on.
I got to the house and met Casey's housemates. They all seemed cool, and hope that I made somewhat of a good impression, though I was mad tired. We started to decorate their Christmas tree, but after hanging only 1 decoration, Casey decided it better to put me to bed than leave me to doze off on their couch.
The next day, we left while everyone else was sleeping. It was a 7 hour drive from there back home, so I didn't want to leave any later than 5PM. Breakfast was at Kings, a friendly's/denny's/IHOP type chain with a frowning brownie as their mascot. I really think that they should fire everyone in the marketing department for this one, I mean… Their mascot Frowned. Who wants a Frownie? I want a Happy Brownie (not to be confused with a Special Brownie of which this marketing company had one too many of!)
I got a tour of the campground that hosts Pennsic, a reenactment medieval war that occurs during the warmer weather. This time of year it was covered with snow, but thanks to 4-wheel drive, Casey was able to show me around.
We took a drive into Pittsburgh and hit up a coffee shop that catered a middle-eastern theme. The venue was popular for belly dancers and musicians to perform live. A friend of mine, and former roomate, Carmine had performed there in the past, and they even had his CD prominently displayed for sale there.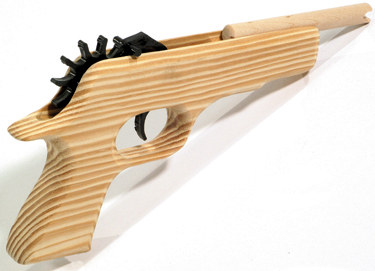 Our last stop was at one of the coolest toy stores in the USA. The building is shaped like a UFO that had crashed on the side of the road. The front door is designed to look like an aft thruster, all burnt out. This place had lots of great toys. Board Games, Juggling Supplies, R/C Cars and Helli copters, Trains, Slot-Cars, Learning/Educational kits and so much more They even had Segways ($5k ouch!). They were really cool there. They hooked me up with some parts I needed for my R/C helicopter, and I picked up a rubber band gun. The kind that you can load 7 rubber bands and shoot them one at a time by pulling the trigger (Hopefully the picture (to the left) is still there by the time you read this.)
The ride home was almost a pleasure. There was no traffic, and the weather couldn't have been clearer. The car, on the other hand was filthy and all the squeegees at the gas stations were frozen. So were the tubes feeding washer fluid to my windshield wipers. I managed to get the window pretty clear, but it could have been better. Either way, I made it home and managed to get home a half hour before my initial ETA. It was a great weekend. I'm thoroughly looking forward to next weekend, half afraid my plans will fall through. I really hope they won't!