Searching for a quick how-to can be a difficult task in today's fast-based multi-media society. I was looking for the procedure to add a photoshop pattern (.PAT file) I had downloaded, and all I could find were videos explaining how to do it.
So, for those of you searching for the same, here is how you do it in Windows. Mac will have some variations, but should be similar.
Open the Patterns window in Photoshop.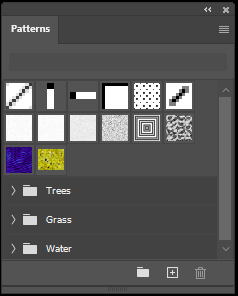 Click on the "Hamburger Menu" (That's the horizontal lines at the top right of the window) and select "Import Patterns". This will open a file selection window starting in your Patterns folder. This is the folder where you want to save your .PAT files.
The file location on the PC is:
C:\Users\<User-Name>\AppData\Roaming\Adobe\Adobe Photoshop 2020\Presets\Patterns
Once you've copied the file there, it will appear in this dialog window. Select it and click "Load".
That's it! You can now use the new pattern in your project(s)